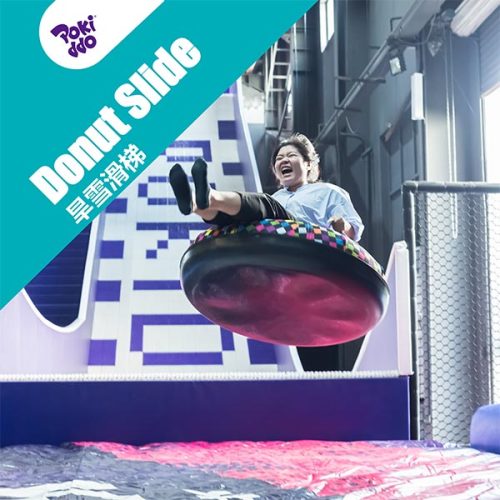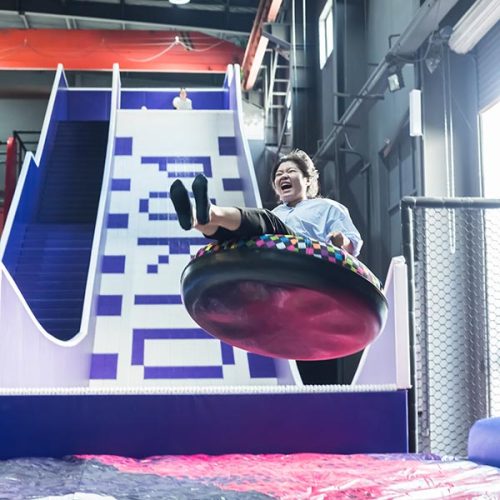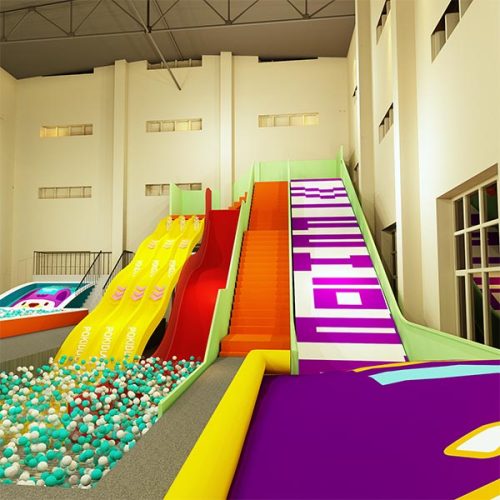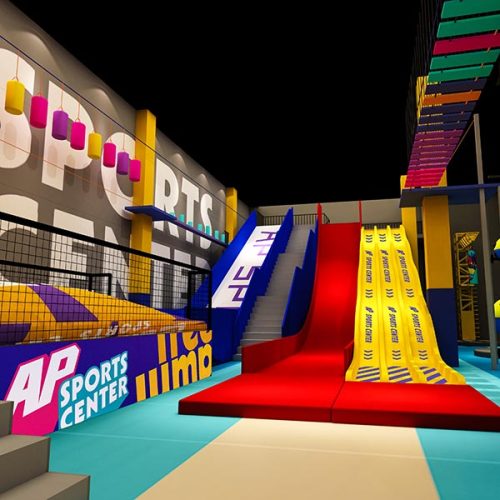 Donut Slide/Tubby Slide/Donut Glider - Indoor Amusement Attraction
Item specifics
Color

White, can be customized
Size

Can be customized
Ceiling Height Required

6m minimum
Material

Galvanized steel pipes, plywood, PP
Age Range

7-50 years old
Description
1. Briefing on Donut Slide
Donut slide, also known as tubby slide or donut glider, is an indoor amusement attraction that reminds the winter season in the most exciting way. Thus, children don't have to wait for winter to skate from the top of a hill. Sliders or kids will sit on the donut tube as a sledge, slide down from the top of the donut slide and land onto the airbag.
The Donut slide surface is made from plastic floor mats in the color of white to simulate snow. The slide can go straight down, or it can also be designed with curve at the bottom to create flying landing.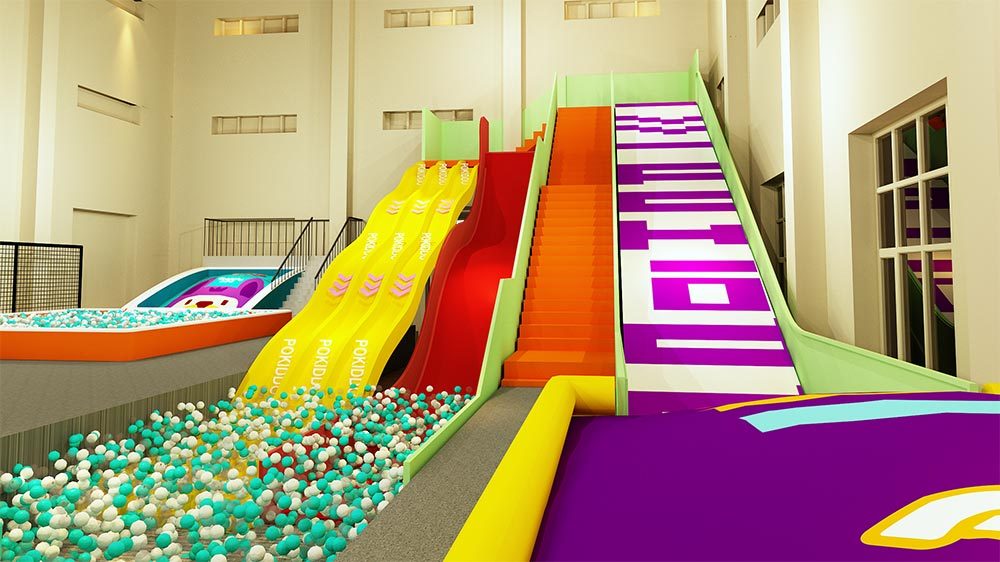 1). Product name: Donut slide/tubby slide/donut glider
2). Color: white, color and design can be customized.
3). Product size: can be customized
Our standard donut slide deck heights:
Deck H4m, Slide 12+1.23m, ceiling height 6m (Straight Landing)
Deck H5m, Slide 11.8+1.23m, Air bag 7m, ceiling height 7m
Deck H6m, Slide 13.8+1.23m, Air Bag 8m, ceiling height 8m
Deck H7m, Slide 15.4+1.23m, Air Bag 9m, ceiling height 9m
4). Ceiling height required: 6m minimum
5). Product material: Galvanized steel pipes, High Quality Plywood, PP in needle mushroom shape
2. How to Play Donut Slide
1) Once at the top of the donut slide, make sure the tube slide is clear and get ready for sliding.
2) Sit on the donut tube and grasp the band handles with both hands.
3) The staff will push you down the slide and it only takes a few seconds to slide from top to bottom.
4) You will land onto the airbag at the bottom, try to avoid head contact with the airbag.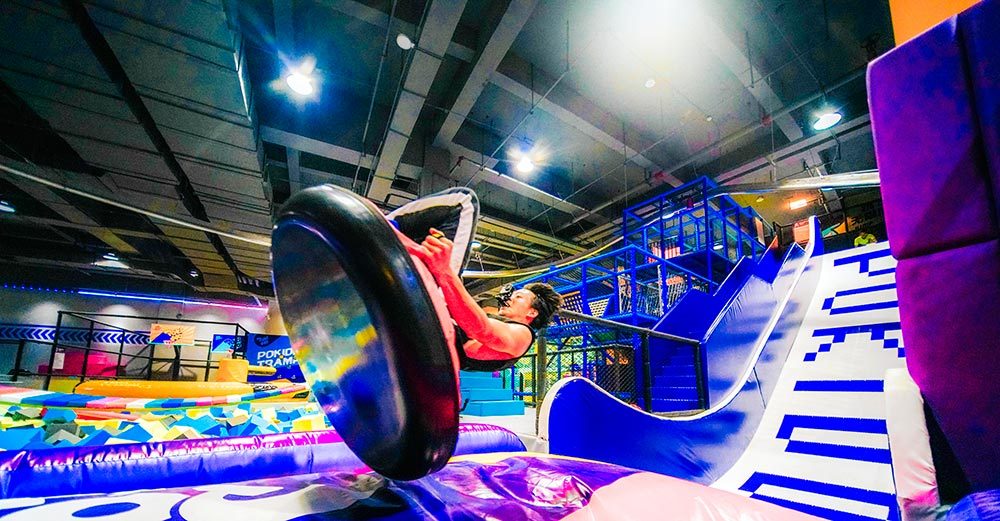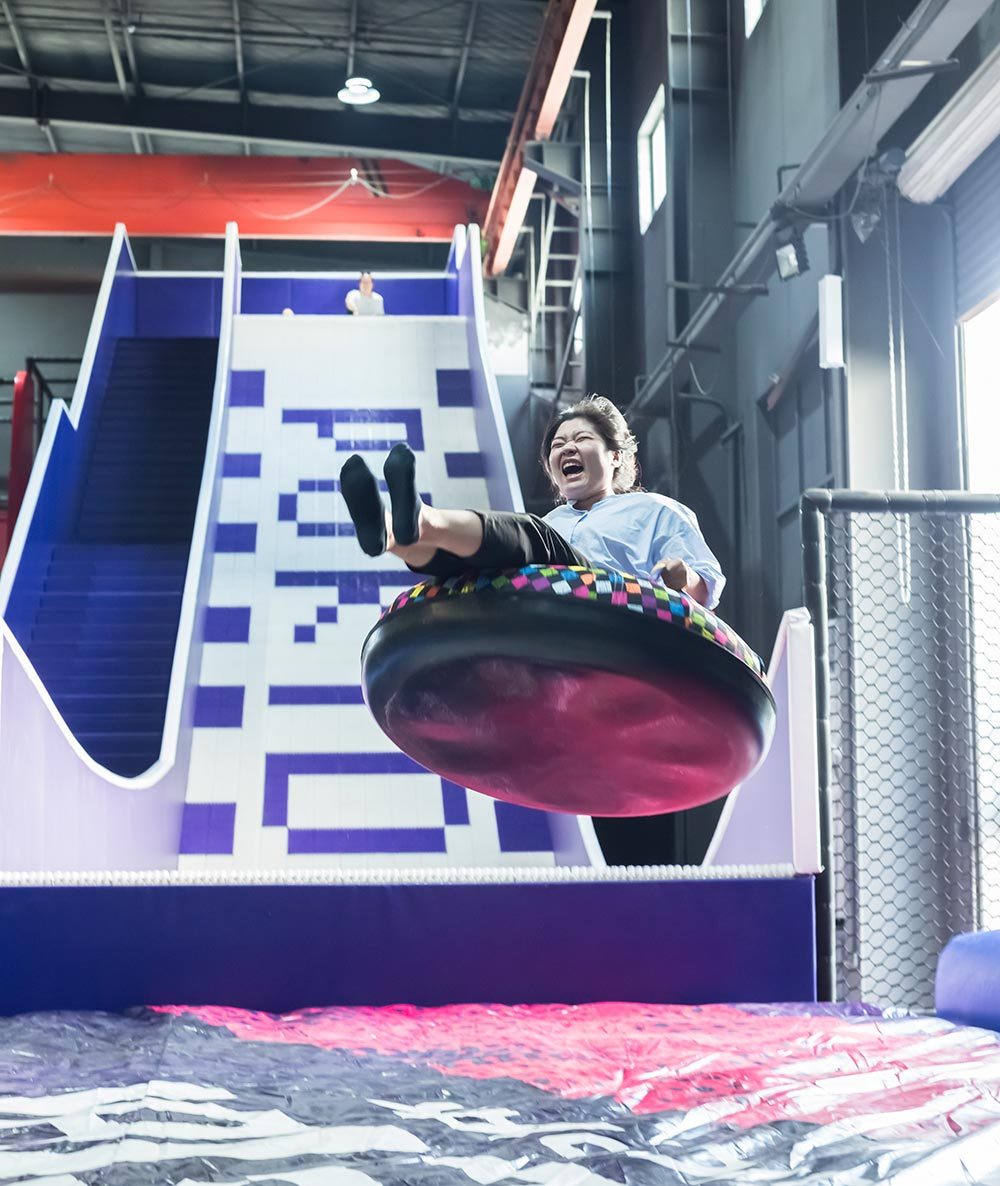 3. Integration Options for Donut Slide
The donut slide can be placed as a free standing attraction in a trampoline park or family entertainment center, and can also be integrated with other types of slides like crazy slide and 3-lane fiberglass slide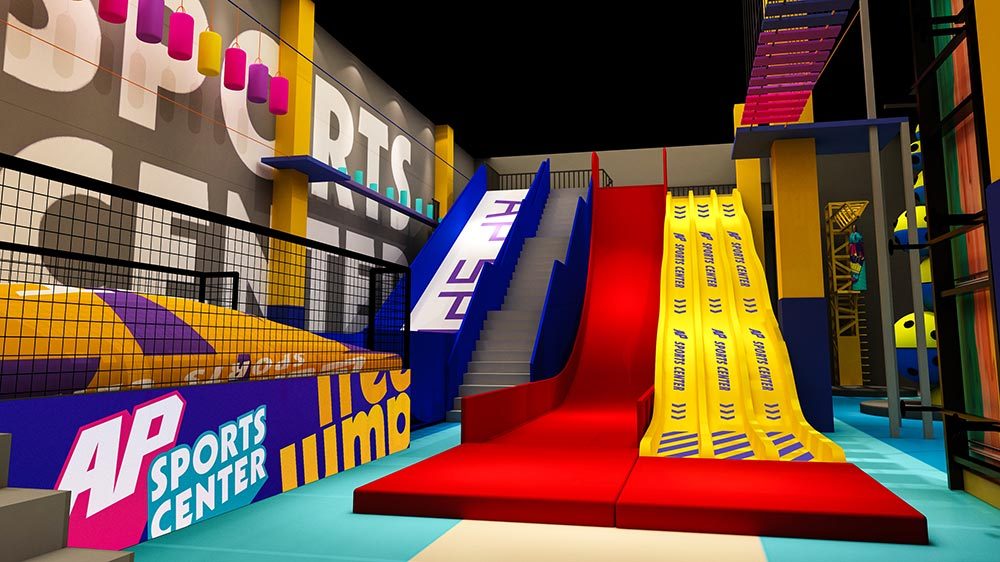 4. Pokiddo Cases of Donut Slide
Pokiddo as a franchise brand and manufacturer of trampoline park and FEC, has built hundreds of parks worldwide. Donut slide is like an must-include attraction for large indoor amusement park.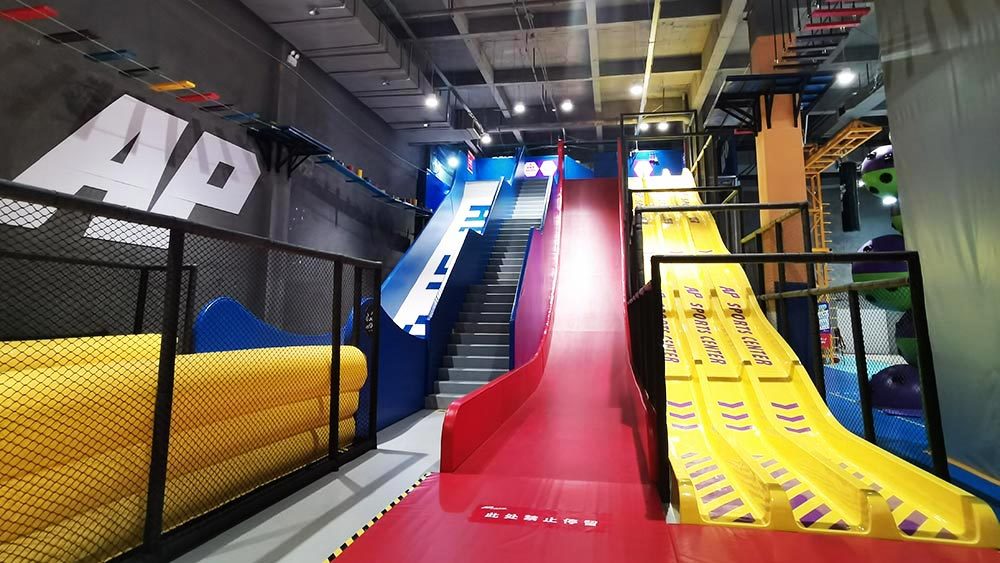 Donut Slide in Quanzhou AP Sports Center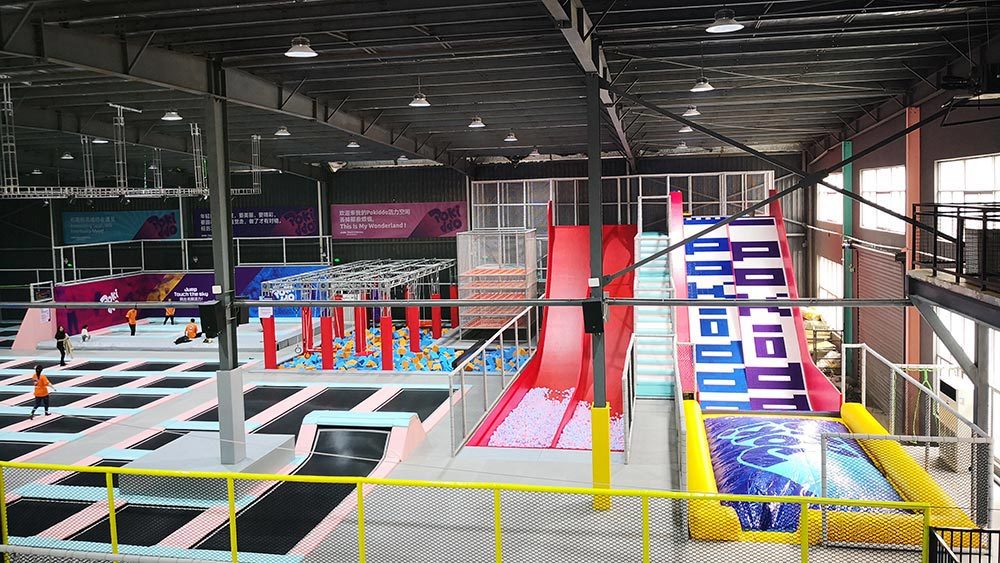 Donut Slide in Suqian Pokiddo Trampoline Park

"This attraction creates quite a thrilling experience of sliding from a certain height and flying onto the airbag. During the park open time, you can always hear the screams of the players. The donut slide has become a hot attraction in our trampoline park. It is also a popular entertainment game on Douyin (tik-tok) !" --comment from the park owner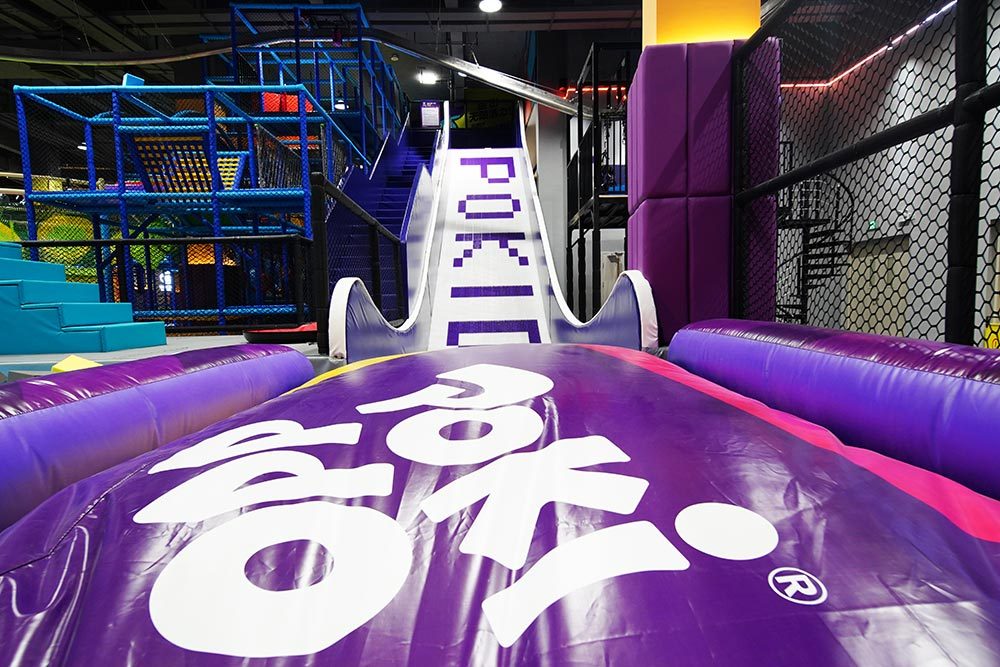 Donut Slide in Zhuhai Pokiddo Trampoline Park