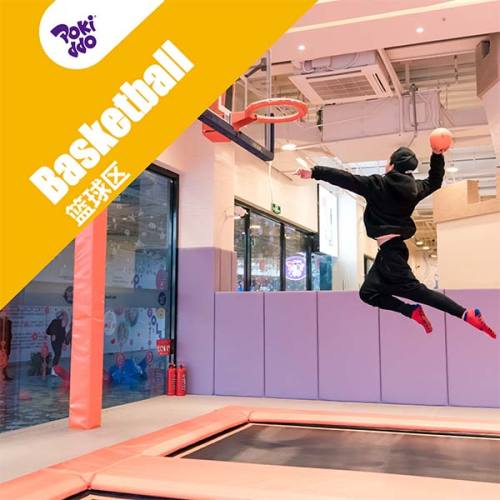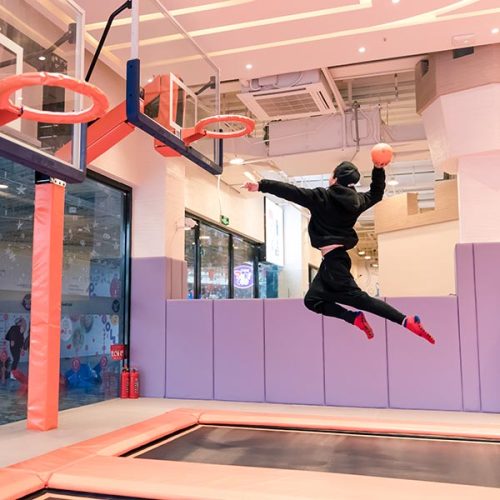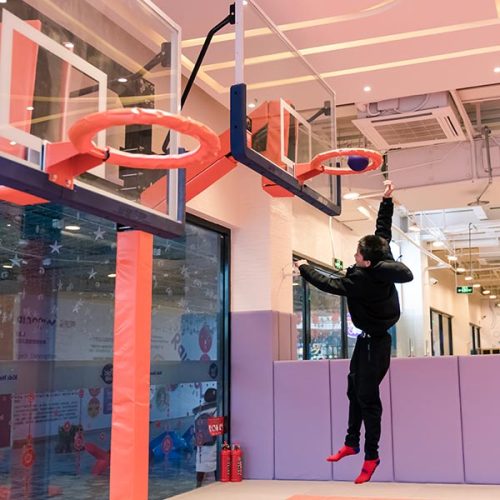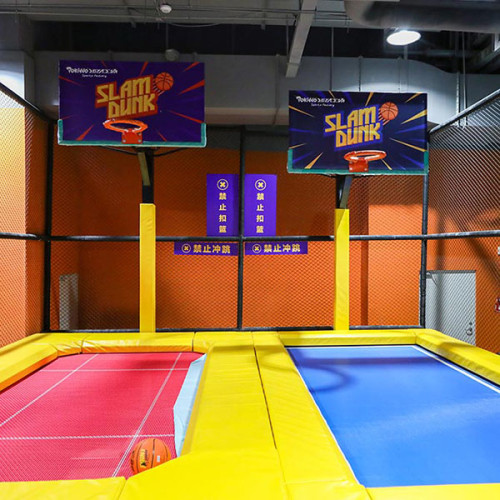 Trampoline Park Slam Dunk Basketball Court
Item specifics
Attraction Name

Trampoline Slam Dunk
Size

Customizable
Material

High-strength tempered glass
Certificates

ASTM, TUV certified
Age Arange

Above 5 years old
Description
(Slam dunk area in Zhuhai Pokiddo Trampoline Park)
1. Brief Introduction on Trampoline Slam Dunk
The slam dunk basketball court is a basic popular attraction you can find in almost all trampoline park. In the slam dunk zone on trampoline, you can play basketball like a NBA start. On the traditional basketball court, it's difficult for players to jump high to touch the basketball hoop. But on trampoline mat, your jumping ability would be highly amplified. There are different heights of the basketball hoop to appeal to players of different ages. Trampoline slam dunk can be combined into kids trampoline court with the basketball hoop built at a lower height.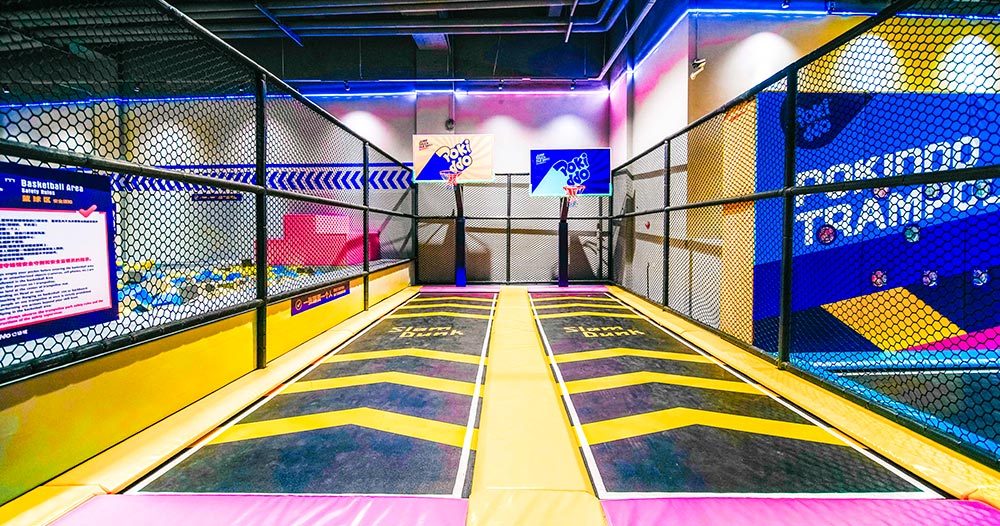 2. Safety Rules for Trampoline Slam Dunk
To ensure the safety of players on the trampoline park, we should set rules for each attraction. The below we list the safety rules for trampoline slam dunk court. Better print it in a notice board or poster to remind the players to obey the rules. Keep in mind that trampoline park safety is always a priority.





1) BEFORE YOU JUMP on slam dunk court:
DO NOT Jump if you have health limitations or injuries, are under the influence of alcohol or drugs, or are pregnant.
ALWAYS empty your pockets before jumping. NO sharp objects, jewelry or unauthorized devices (cameras, phones, etc.) allowed on the court.
2) WHILE YOU JUMP on slam dunk court:
NO flip dunks allowed.
DO NOT hang on the rim.
ONLY 1 jumper per lane may Slam Dunk at a time.
ALWAYS wait until the person in front of you is COMPLETELY OFF the lane before you attempt a dunk.
ALWAYS be aware of those around you.
It is YOUR RESPONSIBILITY to avoid others.
ALWAYS bounce in the centre of the trampoline.
ALWAYS land on your feet after a dunk.
ALWAYS land on the trampoline surface after a dunk.
DO NOT land on your chest or back.
DO NOT affect another jumper's bounce in anyway.
DO NOT touch the backboard.
ALWAYS remain in control.
ALWAYS follow the Court Monitor's directions.
DO NOT jump if a Court Monitor is not present.
ALWAYS one jumper at a time per trampoline lane.
NO climbing or hanging on the wall pads or nets