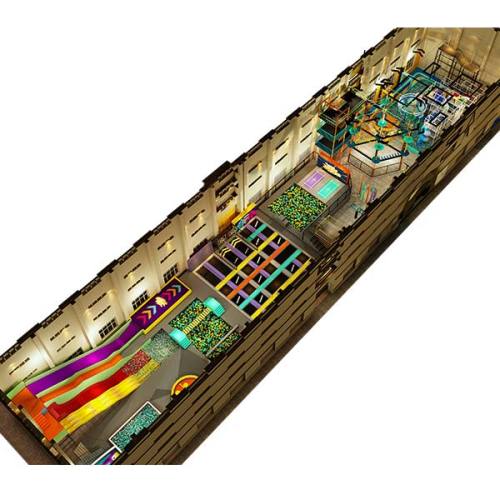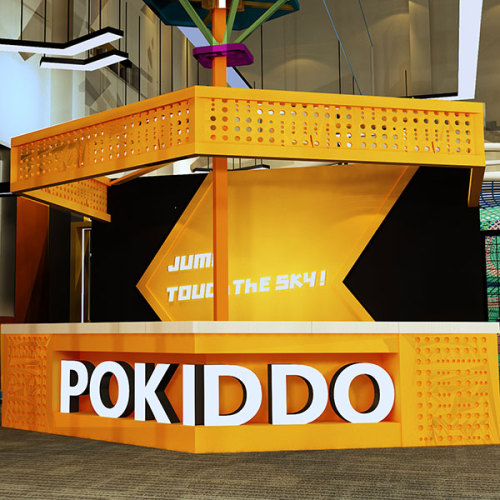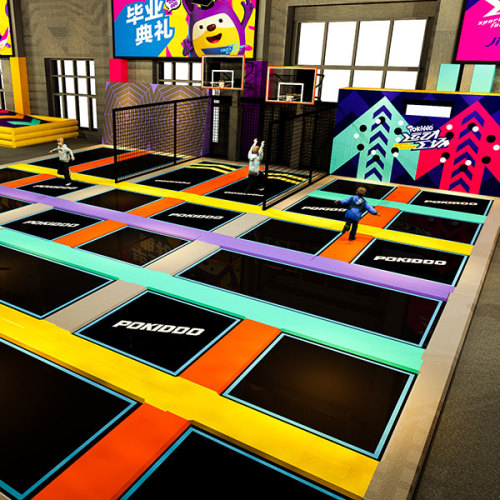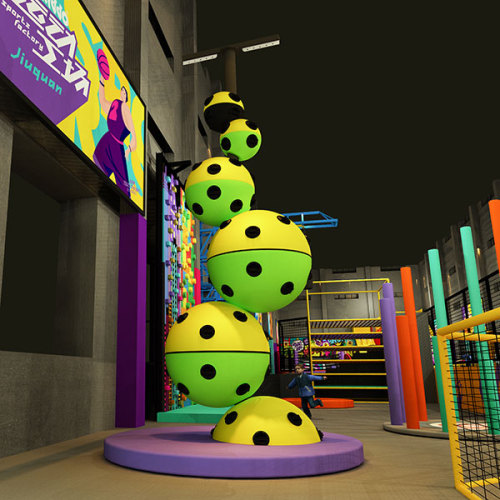 2000sqm Pokiddo Indoor Trampoline Park Games
Item specifics
Materials

Galvanized Stee Pipes, PVC, PP, Foam, etc
Trampoline Games

60+ games, customized
Design

Customized according to space
Colors

10 choices
Certificates

ASTM, TUV certified
Description
When you plan to build a large indoor trampoline park, how do you choose trampoline park games? or how to know what trampoline parks are popular on the market? here're some tips for you to choose games.

When you decide to build a trampoline park, you probably have found your potential builder or manufacturer, who will offer you design proposal. You can ask them for catalog, and consult them about the most popular trampoline park games on the market. Since the trampoline park builder or manufacturer has built many parks or been in the industry for years, they would be clear about the popular games in your market. Be always free to ask them. Pokiddo as a professional park manufacturer and franchise brand, would love to offer you advice on the game choices for your park.
2. Go visit the most popular local trampoline parks or indoor amusement parks
Search on internet about the most popular parks near you, then you can take your kids to enjoy a great time in those parks. While your kids are having fun, you can check what trampoline park games attract the players most. After the trips, you can also ask your kids, what games he/she loves most. Then you have better and clearer ideas about games choosing. Seeing is believing, since it's your own investigation in your own market, you would be more confident on your choices.
3. Check trampoline park games on social media
Go check on social media like youtube, instagram, pintereste, etc about the pictures and videos the players posted, which will give you more ideas.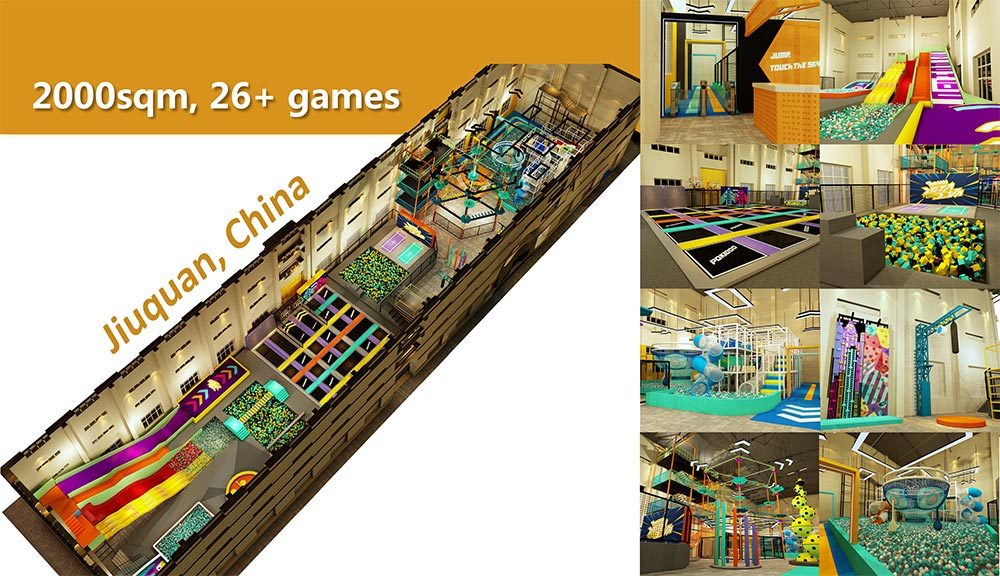 The above design is a Pokiddo trampoline park proposal in Jiuquan, we include the most popular indoor amusement park games in China, it may give you more ideas for your trampoline park planning. We can divide the park design into four parts: 1. park entrance area. 2. challenge games zone. 3. trampoline park zone. 4. kids soft play zone.
If you're expected to see what the park really looks like, click Pokidd Trampoline Park in Jiuquan to see real photos.
1. Jiuquan Pokiddo Entrance Area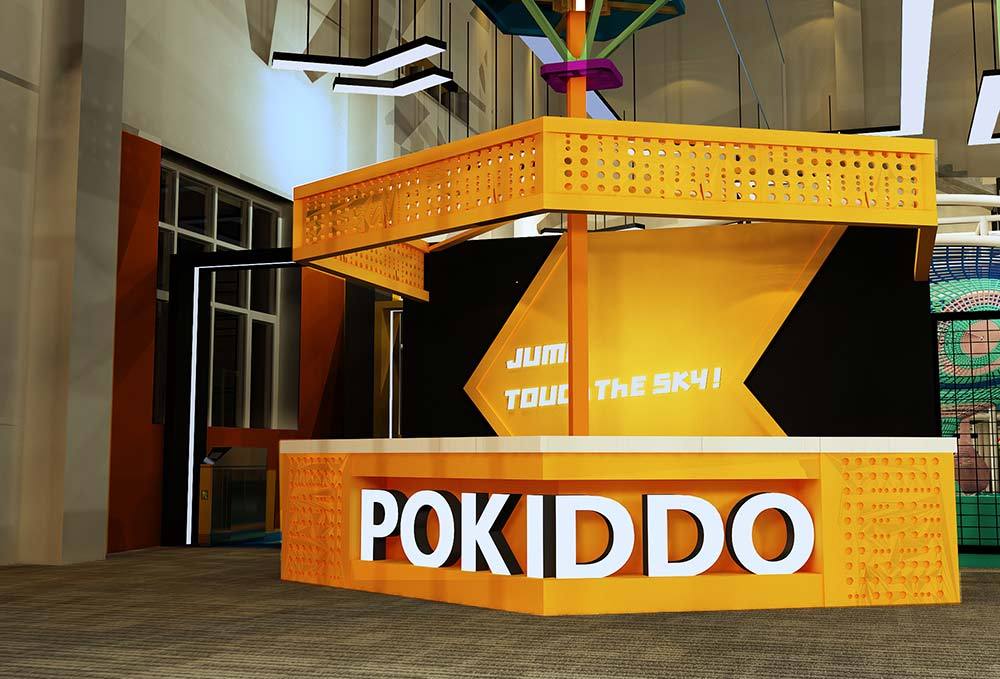 Pokiddo reception area to offer service for customers.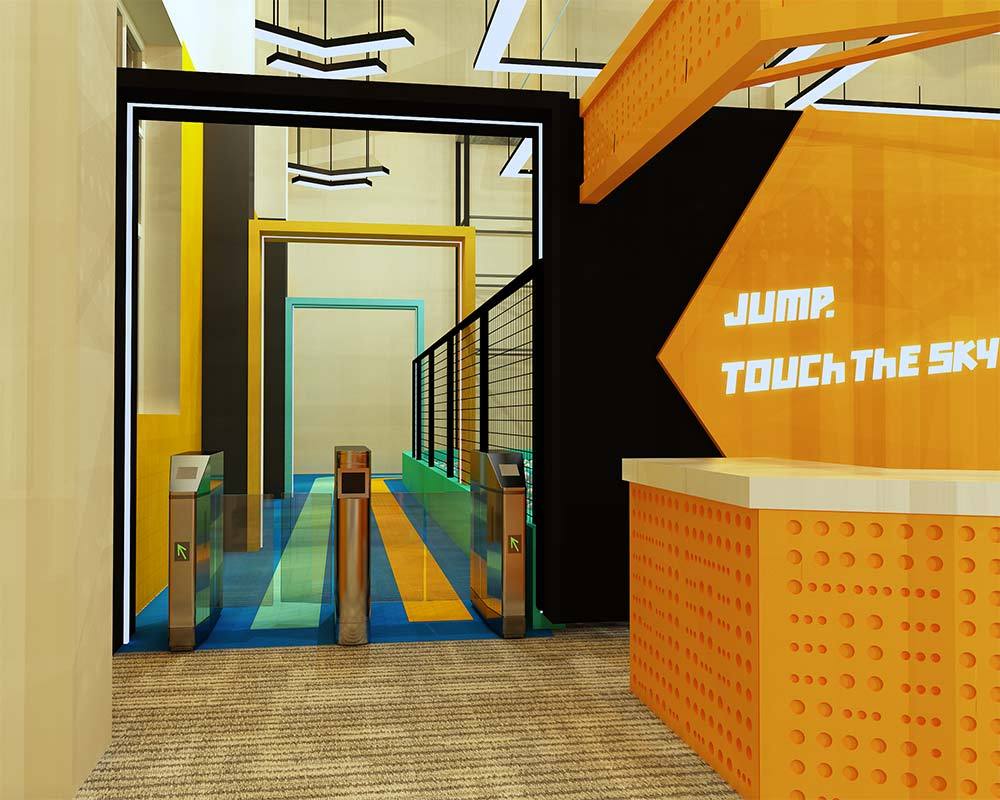 Entrance gate into the play zone. Pokiddo offers high-end entrance gate equipment.
2. Challenge Games Zone
The most popular games in the challenge zone include climbing walls, jump tower and the ropes course.
There are different types of climbing walls, including astroball climbing, stairway to the heaven, and the art climbing, etc.
The jump tower is the most challenging one, will give you adrenaline boost.
Ropes course is a really good choice for teenagers, encouraging them to brace difficulties and be brave.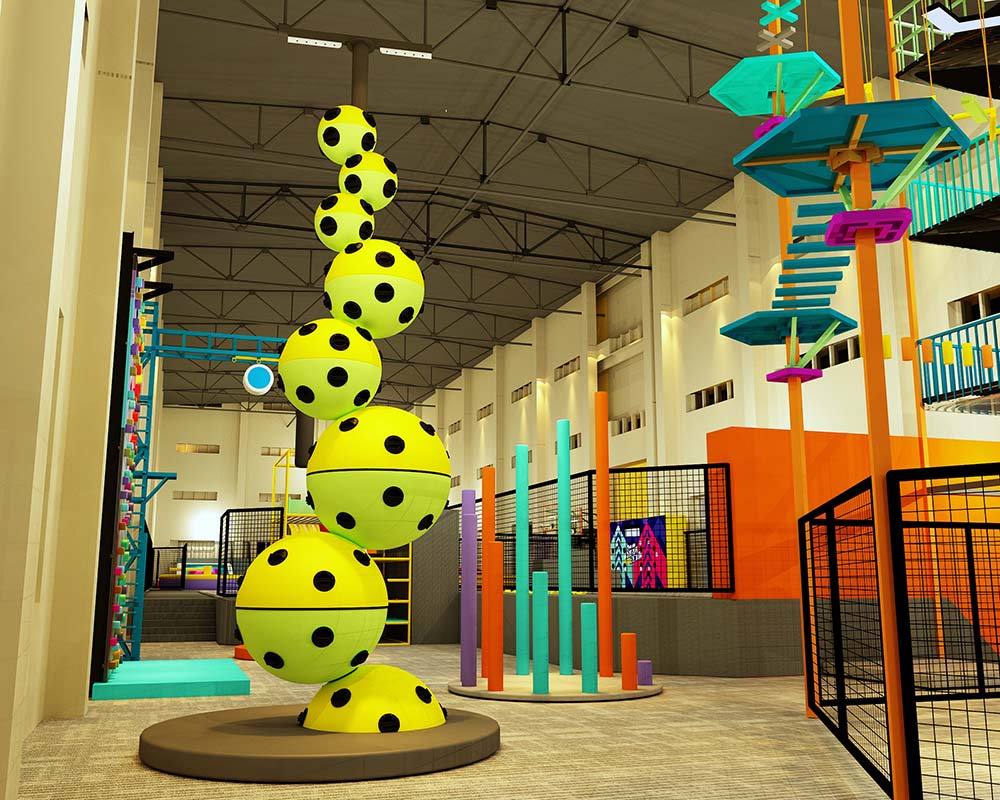 Astroball climbing + stairway to the heaven (sky stepper)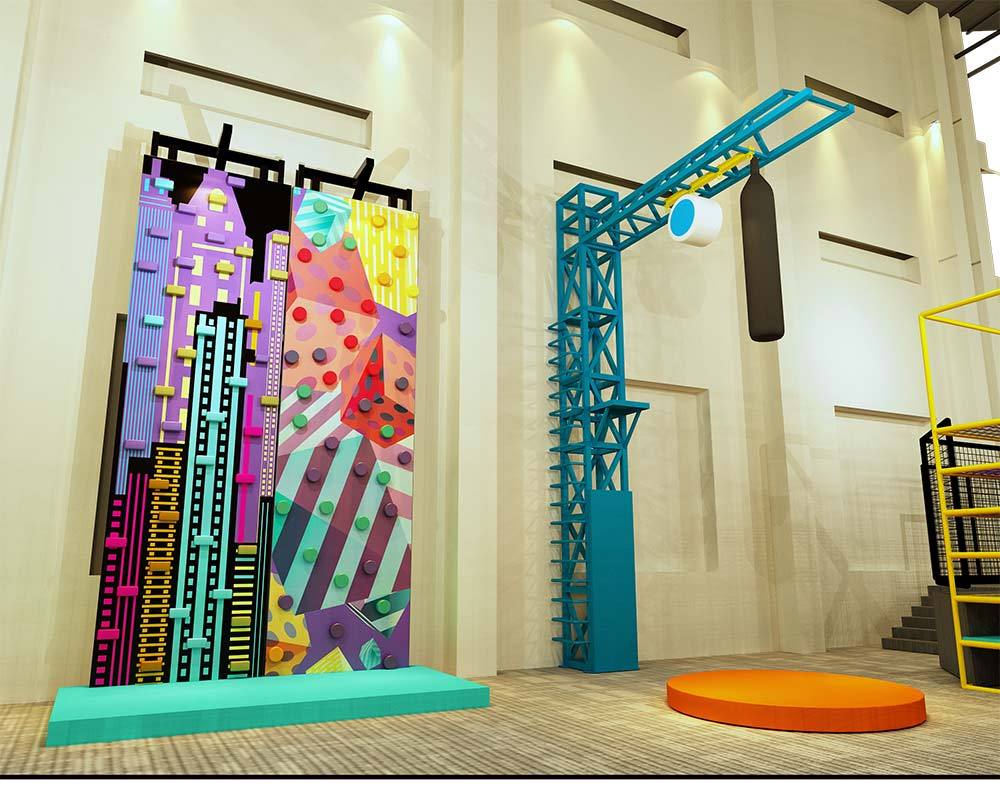 Art climbing walls+ jump tower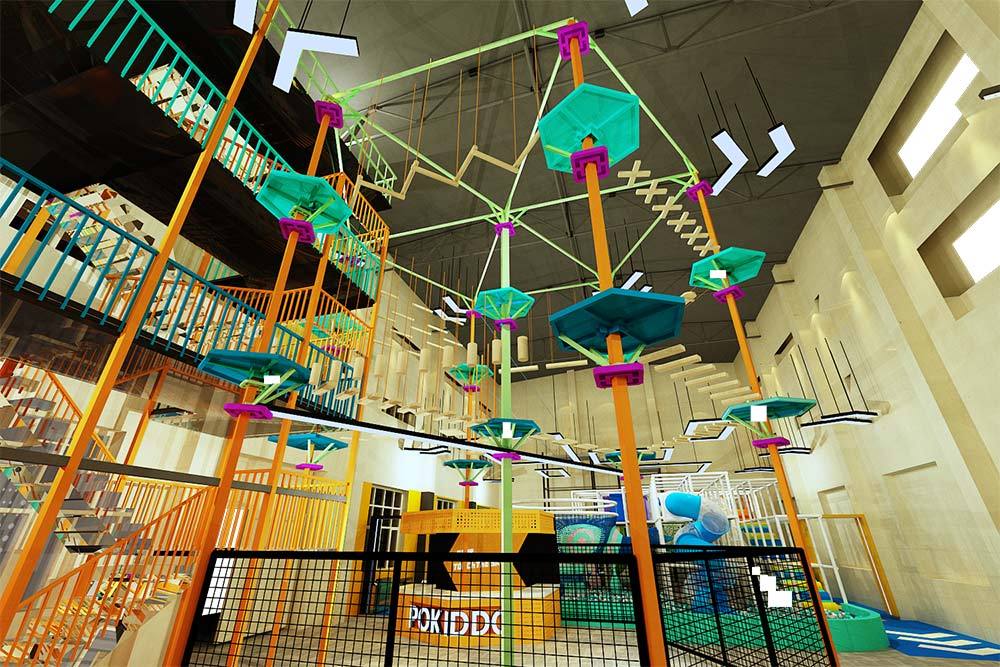 High altitude ropes course
3. Trampoline Park Zone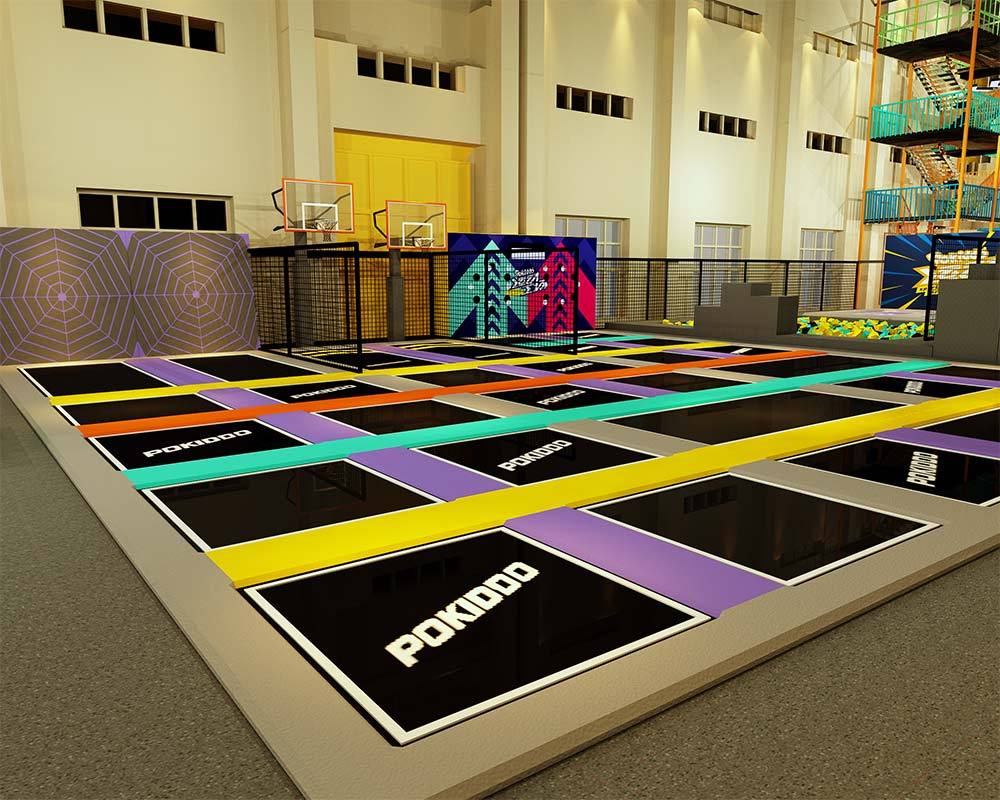 Trampoline park free jump zone, basketball zone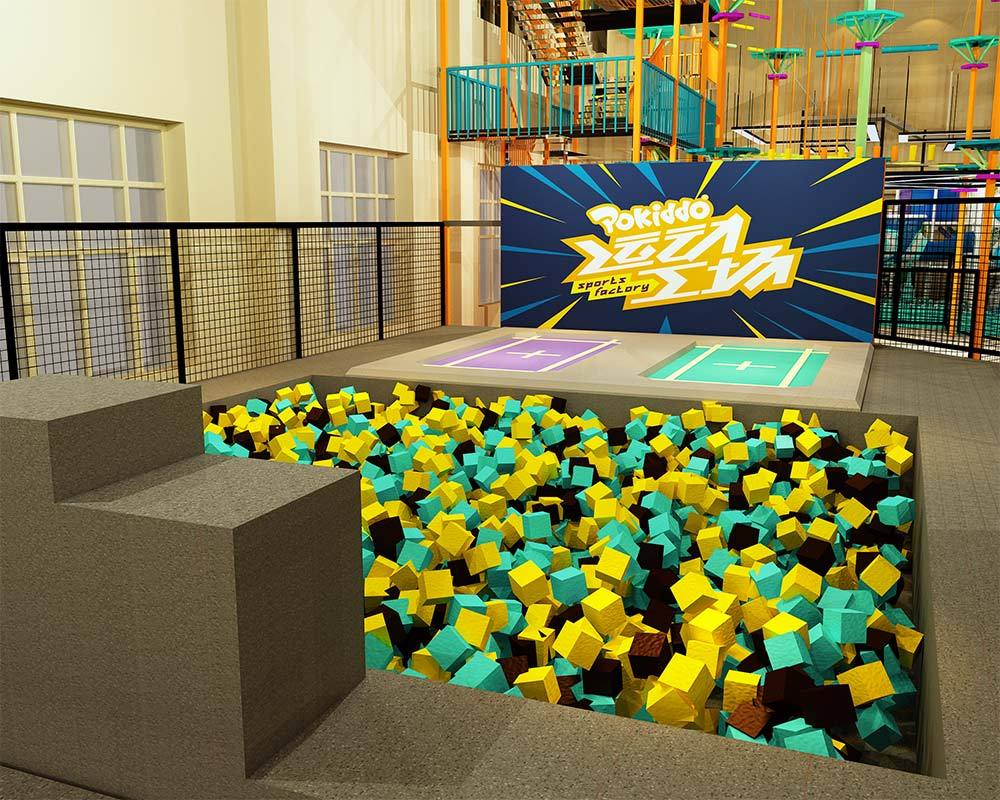 Trampoline park foam pit zone
4. Kids Soft Play Zone