2600sqm2 Family Entertainment Center-Quanzhou AP Sports Center
Share
publisher

Morris
Issue Time

2021/07/08
Summary
Quanzhou 2600sqm2 AP Sports Center, a family entertainment center mainly for all ages. The park can be divided into five main zones: reception&party room, trampoline park zone, challenge zone, ninja tag arena and a racing car zone.



Briefing on AP family entertainment center
A family entertainment center, also abbreviated as FEC in the entertainment industry, is an indoor amusement park targeting families with small children and teenagers. In family entertainment center, not only the small children or teenagers can enjoy happy time, the parents can also find fun experience with their kids. AP Sports Center is a 2600sqm2 sports FEC in Quanzhou, Fujian, China. As you can see the above final 3D design, the park can be divided into five main zones: reception&party room, trampoline park zone, challenge zone, ninja tag arena and a racing car zone. Pokiddo, as a manufacturer for trampoline park and family entertainment center, is the builder and park investor of the AP park. We look forward to building more family entertainment centers to bring healthy happiness to families.
1. Reception&Party Room
Reception zone is generally the entrance area where family entertainment center receive customers, charge fees and guide customers into the play zone. It's like the center of the park, whenever customers need help, they can consult the staff at the reception. As the customers are not allowed to bring all their belongs (especially sharp objects) into the park, we high recommend putting lockers at the entrance zone.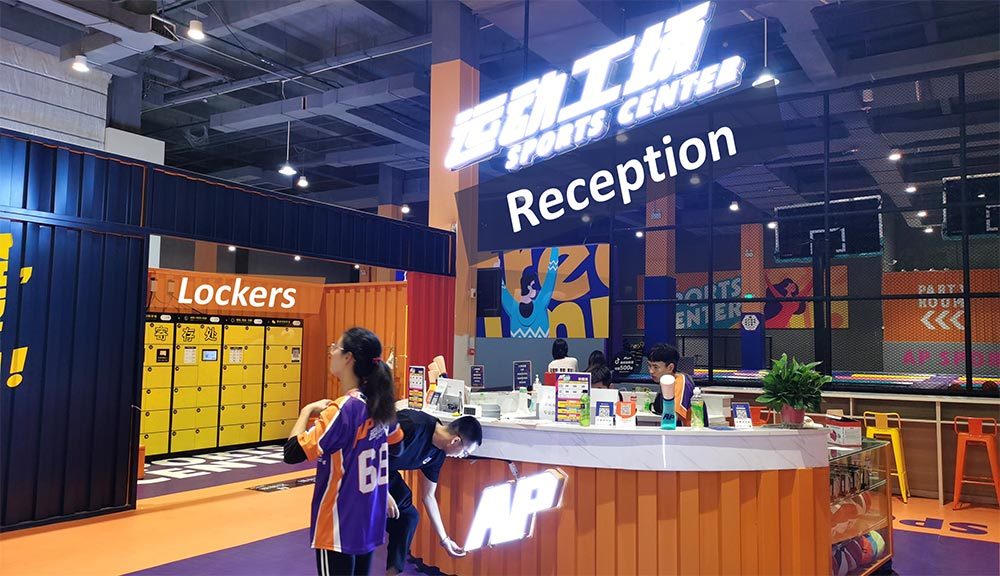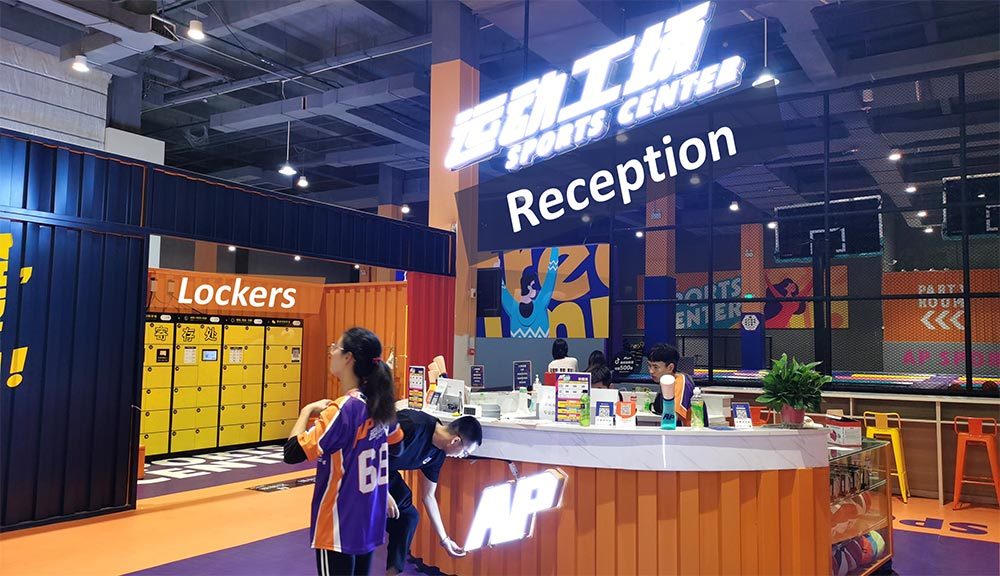 Party room, as the name refers, is the area where small children or teenagers can enjoy their birthday with their friends in such a fantastic play center. Party room has been quite popular all around the world and also an important part of the park revenue. Imagin how happy your kids would be to throwing a birthday party in an indoor amusement park with all the games like trampoline, slides, climbing walls, etc around.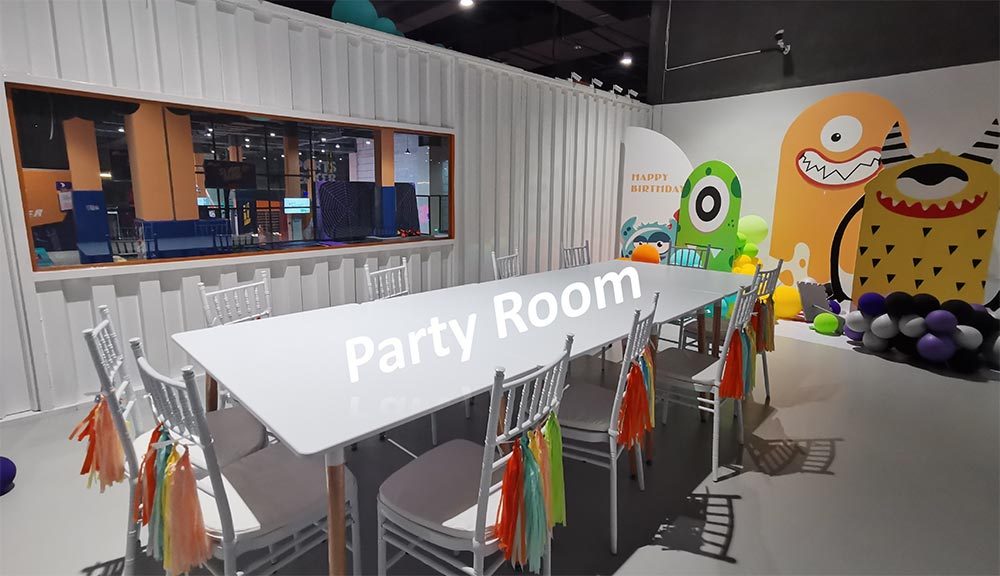 Once trampoline park is popular worldwide, you will find it's an important part of indoor amusement park as both children and adults love jumping freely. The Quanzhou AP sports center includes free jump zone, foam pit zone, professional trampoline, dodgeball zone, interactive tap fun, and swing bridge.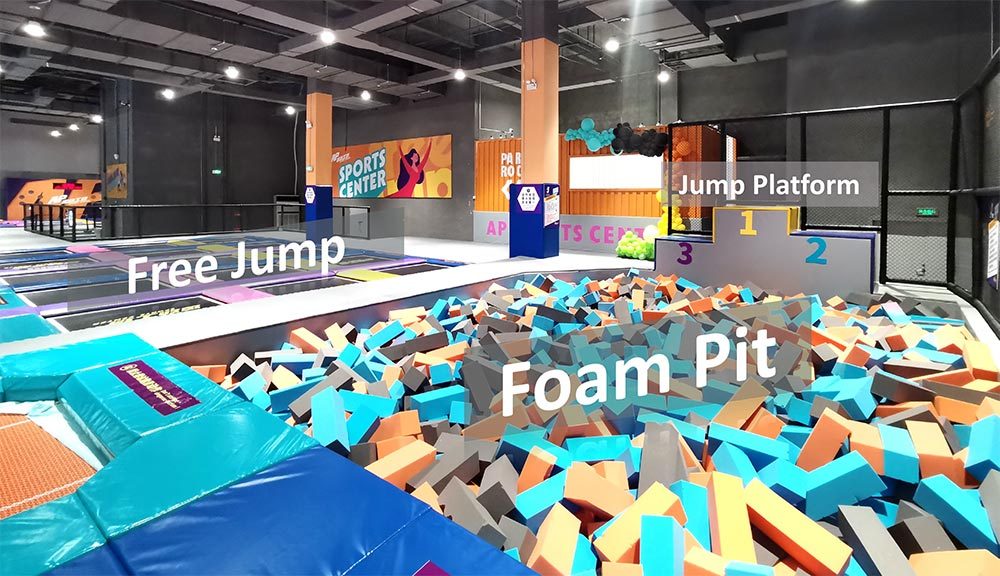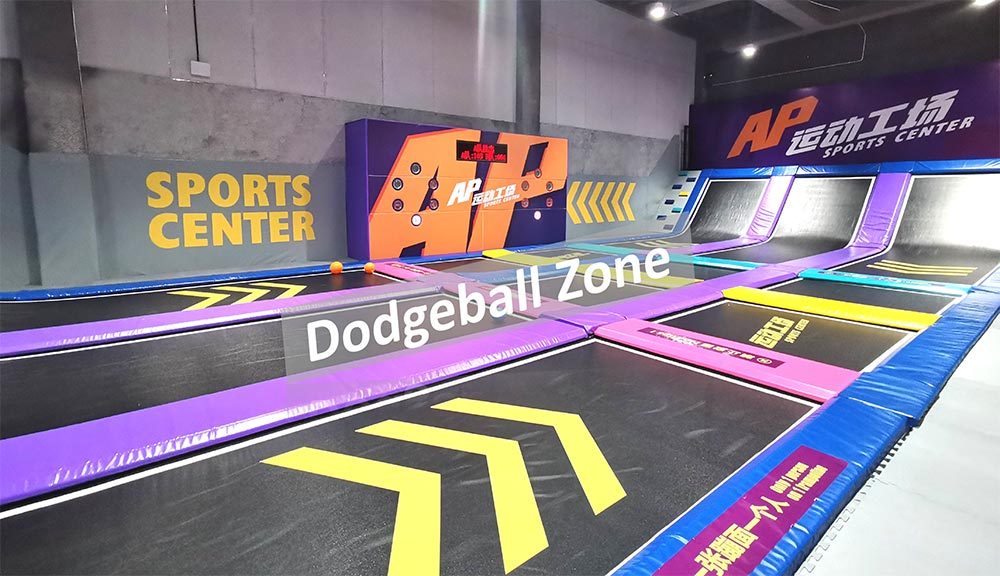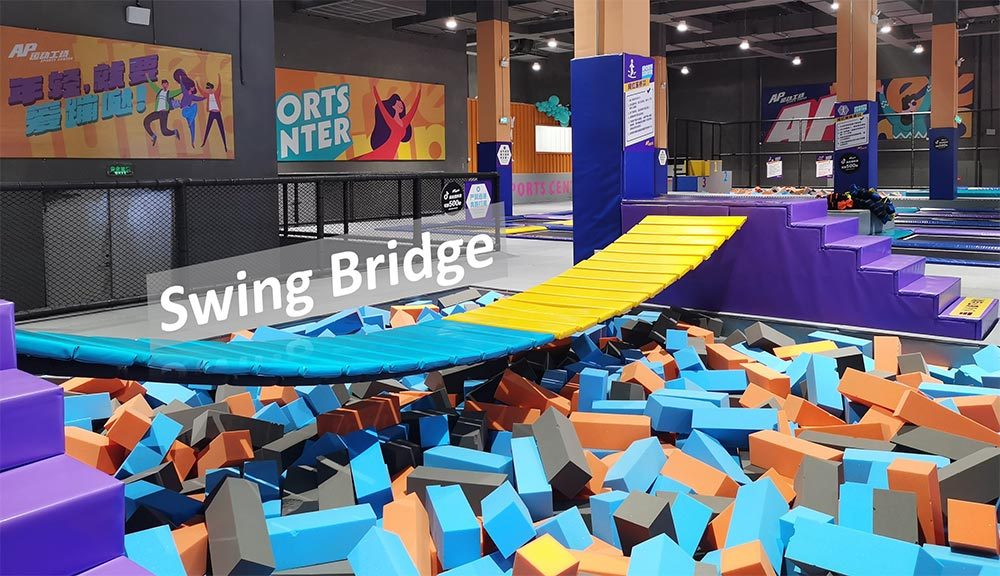 3. Challenge Play Zone
In the challenge play zone, you will enjoy games that may give you adrenaline rush.
Climb up the walls (like arts designed climbing walls, astroball climbing, sky stepper) , jump off and enjoy the thrilling flying.
If you have acrophobia, or afraid of heights, jump off the high tower and try to catch the sand bag would be a really challenge for you.
The ropes courses would be a great choice to encourage your kids to step out of comfort zone and face difficulties bravely, not only in games, also in their future life.
The slides may be easy for you, you may experience the fun of sliding like a kid, but when you do the donut slide, get ready for a fun flying into the airbag.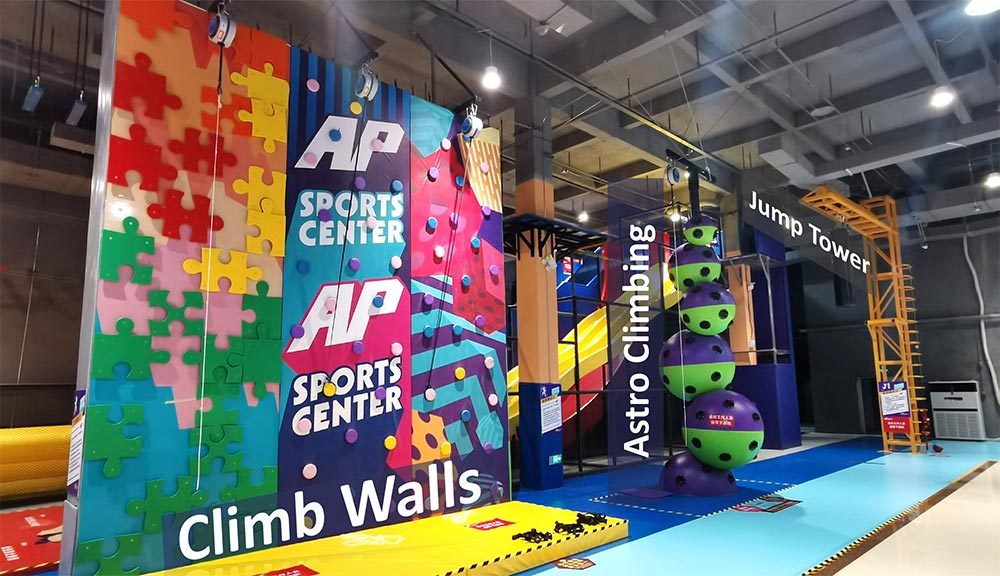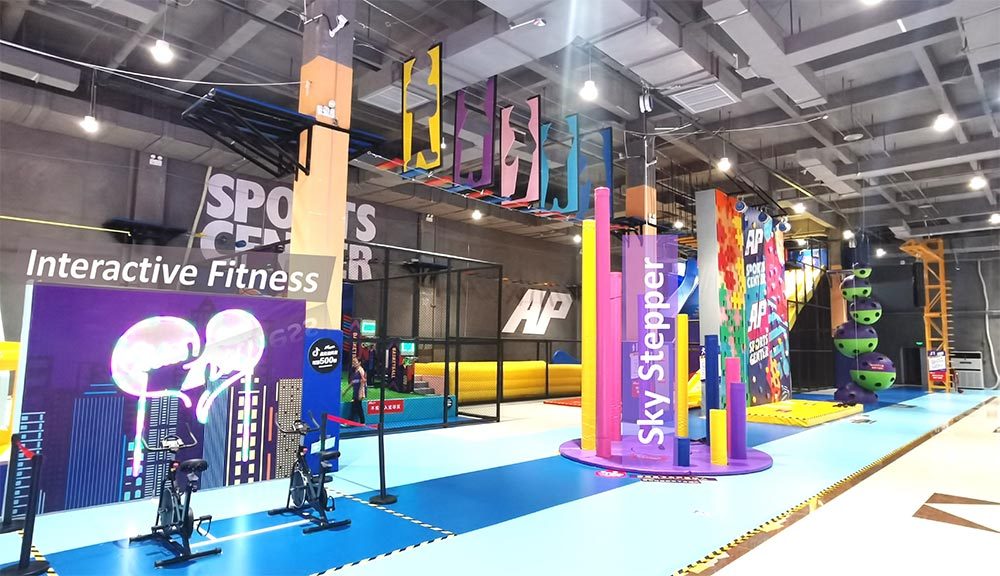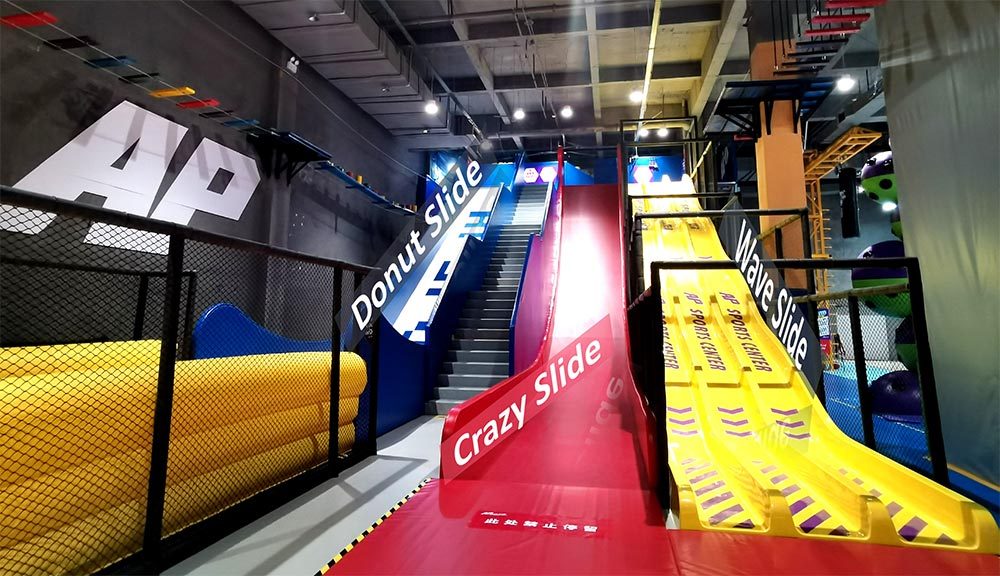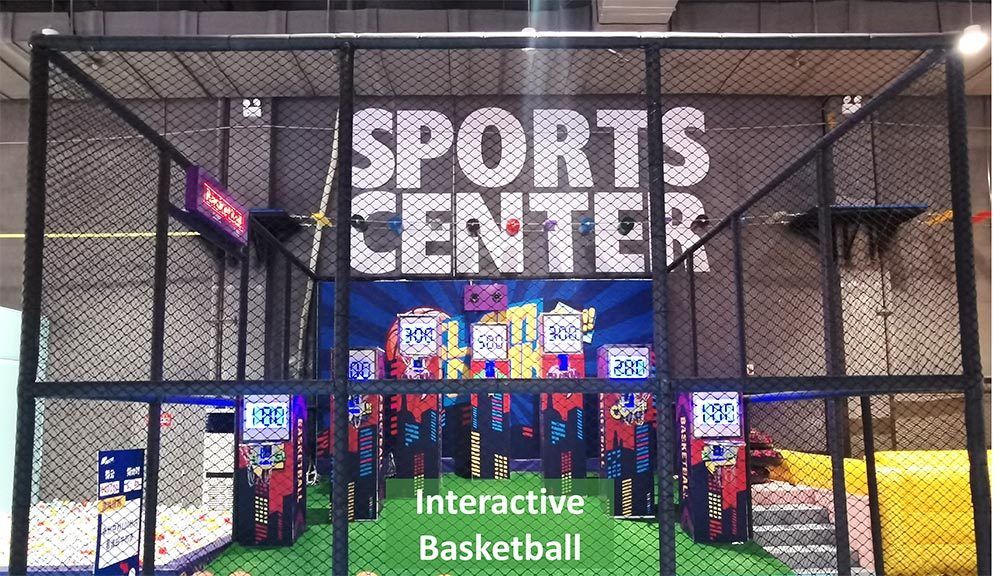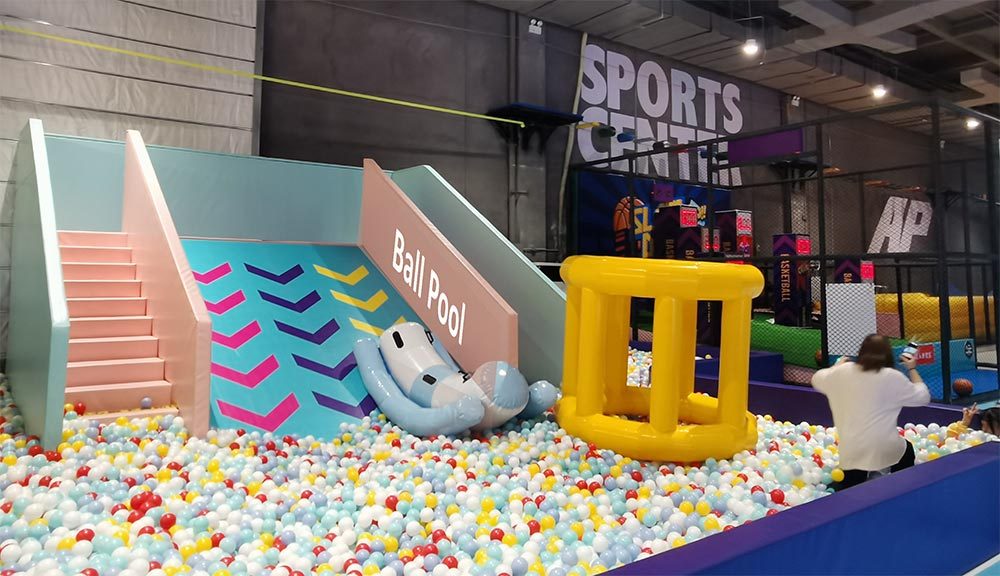 4. Ninja Tag Arena
Ninja tag arena is like a task completing game. In the course arena, there are illuminated beacons, players use wristband to tag the beacons to get points. The higher points within limited time, the winner.